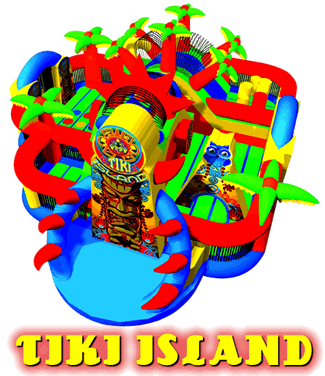 Tiki Island is our largest and newest inflatables, added in 2017. Like the Wacky World, Tiki Island is very colourful has tunnels, obstacles, running hallways, large bouncy areas, very cool designs, and slides. It fits a lot of kids. It is 34' in length by 27' in width. The Tiki Island has become the most extreme bouncy castle in Northwestern Ontario!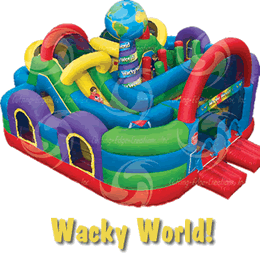 The Wacky World Inflatable is our most prized addition, new in 2011. The Wacky World has tunnels, obstacles, running hallways, bouncy areas, very cool designs, and two slides. There is nothing else like it in Thunder Bay. Though it is 28' in length by 29' in width, it is lower in heigh than the other inflatables and will fit inside many halls if it fits through the door. The Wacky World is perfect for kids with lots of energy or with active imaginations (which of course includes almost all chidren)!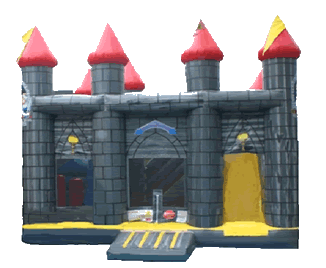 The Giant Castle is our oldest castle and our favourite. It is the largest most impressive bouncy castle in Northwestern Ontario, being over 18' feet tall, 20' long, 20' wide. The Giant Castle has a large bouncy room, side room filled with obstacles and a back room with stairs going up to a tall and wide super fast, super slippery slide. Kids love this castle, especially older children. The Giant Castle easily fits ten kids at once.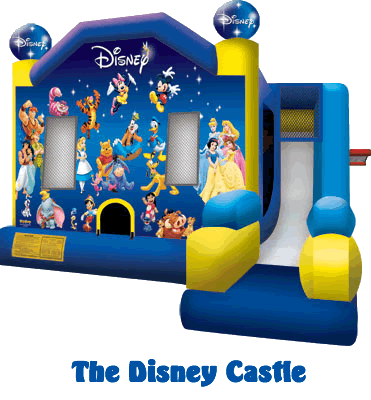 The Disney Castle is beautiful on the outside and the inside. The outside entrance wall is covered with vivid colourful pictures of all the favoured Disney characters, and the inside has them scattered throughout as well. The bouncy room on the inside is enourmous with lots of room, is surrounded by mesh, and in fact is larger than any other bouncy castle in Northern Ontario. There is even a basketball net inside and a tunnel with obstacles that one must go through on the way to the slide. The stairs to the slide are very easy to climb, and the slide is very tall. The big kids especially will love it. The little ones may decide to go back down to the bouncy area. The slide itself is very tall but also very long and asymtotic. The kids have a long time to slow down, and we do have the mat at the bottom of the slide as well. The Disney Castle, all around is the best value of all inflatables in Northern Ontario.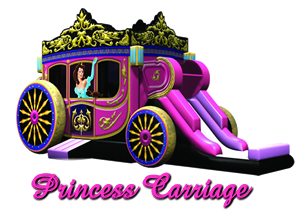 The Princess Carriage (Cinderella's Carriage) is quite large, 14' bg 31' with a large jumping room and a tall slide. The Carriage is very (16') tall! It has a large bouncy roomn, and a tall slide, with Cinderella waving out the window featured on the side mural. It will fit 8 children under 10 years old.